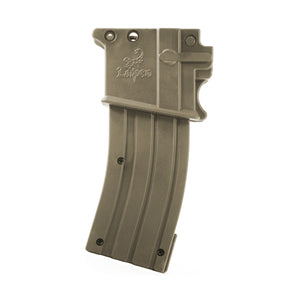 A5 M4/M16 Gas-Through Magazine, FDE, Push Button Safety Style Trigger Frame (Discontinued)
MAG-M4-A5-FDE
A5 M4/M16 Gas-Through Magazine for use with the Push Button Safety Style Trigger Frame.
Available in Flat Dark Earth. 
Our M4 / M16 Magazine Kit Is the Perfect Modification for A-5 Owners.
The placement of this magazine is set close up to the trigger guard giving it the most authentic M4 / M16 Magazine look on the market.
This magazine is made of a high-grade polymer that will not weigh you down yet maintains strength and toughness.
It also features the LAPCO logo in the same placement of authentic M4 / M16 magazines.
The magazine is easy and quick to install with a basic hex key.
100% Made in-house in the USA.
This product carries the legendary LAPCO Lifetime warranty.
Please Note: This product will NOT fit the A5s with Selector Switch Style Trigger Frame.
---
We Also Recommend